One-on-One Sessions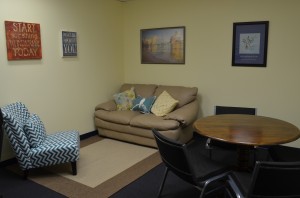 Individual session are available for children and adults in our suburban Philadelphia office location in King of Prussia, PA. The outpatient office is designed to be more comfortable than a hospital setting and has plenty of free parking.  Weekday, evening, and Saturday hours are available!
Nutrition counseling and health coaching is also available via Skype, FaceTime, or phone.  We provide free and confidential online scheduling or you can call 610-476-8877 or contact us to request an appointment. If you need an appointment at another time than offered in our online scheduling program please let us know.
Eat Fit Health is here to be your guide to better nutrition and health. Ultimately, you will learn what your body needs. We will work together to set short-term and long-term goals with improving your health and quality of life! You will receive recommendations that are specifically designed for your lifestyle, medical needs, and preferences.  Your first visit will be scheduled for a longer length of time in order to obtain a detailed history and start personalized goal setting.
Our approach is to encourage lifestyle changes that are sustainable over time.  Popular and fad diets include many food restrictions and limitations that are hard to maintain over time and often are not healthy.  We believe in eating real food and taking supplements only when the benefits may outweigh the potential harms, being active and fit for all ability levels, and taking charge of your health. When you start making positive changes for your nutrition and health you will feel better and want to keep it up!
Sessions May Include:
Obtaining a detailed lifestyle and medical history
Discussing recent blood work and other laboratory reports
Taking anthropometric measurements, weight, height and other measurements
Detailed food history
Reviewing medications, dietary supplements, and over-the-counter medications
Setting short-term and long-term goals
Nutrition & health education
Label reading
Menu planning ideas and recipes
Healthy snack ideas
Tips for eating away from home
Fitness/Physical activity recommendations
Identifying stress management techniques
Preventive health recommendations
Lab work and other medical testing recommendations
Using the SWOT (Strengths, Weaknesses, Opportunities, and Threats) model to help you achieve your goals
Nutrition & health education handouts
Our specialties include, but are not limited to the following, biotoxin illness, celiac and gluten intolerance, food allergy, diabetes prevention, type 2 diabetes, heart health, gastrointestinal disorders, lyme disease, thyroid disorders, polycystic ovarian syndrome, and wellness.
Rates:
Please see/click on our RATES SCHEDULE for details.
Payment is due at time of service. We have a 24 hour cancellation policy or you will be charged the full amount of your appointment visit. We accept cash, check, major credit cards, and PayPal.
Many health care spending accounts or health care flex spending accounts allow you to use those funds to pay for dietitian services. Currently, we accept certain health insurance plans from Independence Blue Cross, including Keystone 65 Preferred HMO, Keystone 65 Select HMO, Keystone HMO Proactive, Keystone HMO/POS/Direct POS, National BlueCard PPO, Personal Choice PPO, and Highmark Blue Cross Blue Shield, pending your eligibility and benefits. Please check plan to see if your are eligible. If a referral is required, please ask your physician to complete the physician referral form and fax or bring to your appointment, it is required before the visit.
If you do not have this insurance we can provide you with a "superbill" that you can submit to your insurance company. Some insurance companies cover nutrition counseling, however, many do not. You can call your insurance and find out if they pay for "medical nutrition therapy" for any of your medical conditions that you may have. You may receive benefits at the out-of-network rate.  If you receive reimbursement from your insurance provider it will go directly to you.

If phone services are desired please contact me to schedule. Please note the same rates apply and these services are not covered by health insurance companies.