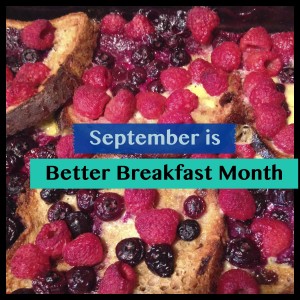 As we kick off fall, football season, and fresh faces at school, we can't forget about healthy food as well! September is Better Breakfast Month, and while many people have heard that breakfast is the most important meal of the day, not many actually harp on that fact. A study conducted by Kellogg recently found that about one-third of the 14,000 people across America that were surveyed found time to fit breakfast into their schedules. Yes, I get it, we're all busy juggling many things, especially during this back to school season, however I'm here to show you that there are ways around this! Before diving into some yummy on-the-go breakfast recipes though, let's discuss just WHY breakfast really is the most important meal of the day.
Overall, breakfast eaters tend to be healthier in that they have shown lower prevalence of overweight and obesity when compared to breakfast skippers, as well as reap the weight management benefits that this meal can provide.

The National Health and Nutrition Examination Survey (NHANES III) examined the diets of 4,218 adults, showing that breakfast eaters, particularly women, were more likely to have a BMI under 25.  Additionally, Katherine Zeratsky, RD, LD, notes that eating breakfast can lead to reduced hunger, healthier choices, and more energy throughout your day. Eating breakfast, within reason of course, may make it easier to avoid overeating later in the day and keep blood sugar levels more stable. People who eat breakfast tend to eat a healthier overall diet in general, and have more energy, something that when lacking can lead to decreased physical activity.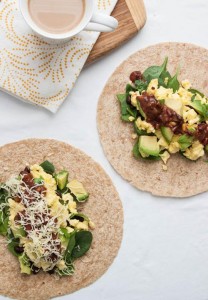 Another advantage to including breakfast in your diet is the metabolic kick start that our bodies receive upon eating in the morning. Megan Moore, ED, LD, CDE, explains, "During the night when we're sleeping, our metabolic rate runs slowly and conservatively, but once we're awake, our bodies need to speed up and break out of its fasting metabolic state." Your metabolism isn't the only system to benefit from a breakfast boost! Jan Sheehan of the San Francisco Chronicle comments, "After fasting overnight, your brain's supply of glucose, its main source of energy, is depleted. A healthy breakfast will jump start your brain and power it throughout the morning, allowing you to think clearly and concentrate on mental tasks". Finally, breakfast is simply a great opportunity for individuals to up their fiber intake. Fiber is a nutrient in which many Americans lack in consumption. Men 50 years of age or younger should be consuming 38 grams per day, and 30 grams if 51 or older, while women 50 years old or younger should be consuming 25 grams per day, 21 grams for those 51 and older. Lower cholesterol and blood sugar levels can be seen if these values are achieved each day.   Many breakfast foods contain whole grains which are higher in fiber than other meal choices. Even if you are not consuming whole grains or fruits, you can always add beans or a whole grain tortilla to your omelet to increase that fiber!
Now that you've heard the endless benefits of this magical meal, AKA breakfast, you're probably thinking, "Well how do I know what I'm supposed to make?" or "I don't have time for all of that!" The following recipes are provided to help you shake of that stress and get started on your path to a healthier you! All of which are my personal favorites that I frequently consume, as well as provide a balance between healthy carbohydrates, protein, and fats.
Peanut Butter Banana Smoothie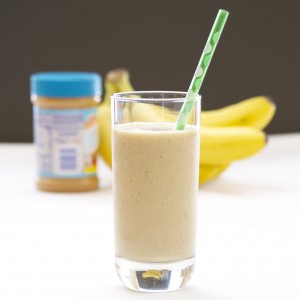 1 frozen banana
1 tablespoon peanut butter (can substitute Sunbutter, almond butter, or other nut butter)
1 cup milk (or substitute almond, coconut, soy, etc.)
1 tbsp chia or flax seed (omega-3)
1 scoop protein powder (your choice: egg, hemp, whey, etc.)
Blend all ingredients together either the morning of, or make a big batch to keep in the fridge for even MORE free time in the morning. Sometimes I'll add ¼ cup of oats to the mix as well for added whole grains and bulk.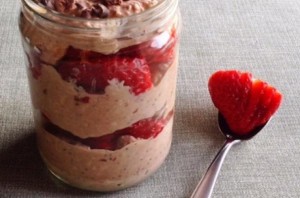 Overnight Oats
1/3 cup oats
1/3 milk (or substitute almond, coconut, soy, etc.)
1/3 cup plain Greek yogurt
1 tbsp chia or flax seed (omega-3) OR ¼ chopped nuts
Fresh fruit/berries of choice
Mix all ingredients in a mason jar or other sealed container and stick in the fridge the night before. Simply open and enjoy the next morning! This option is a balanced meal including whole grains for steady energy throughout the day, protein to keep you satisfied until lunch, and healthy fats for your brain.
Egg Muffins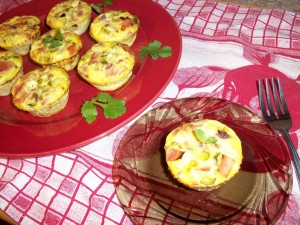 1 dozen eggs
1.5 cups of beans of choice (optional)
Veggies of choice
Mix all ingredients in a bowl and divide evenly among a 12-cup muffin pan. Bake at 350 degrees for 20-25 minutes and simply keep in the fridge for mornings on the go! Throw one in the microwave for a minute or so before you run out the door for work. And don't forget, you can add some beans or wrap in a whole grain tortilla for added fiber!
Check out these other breakfast ideas: Breakfast Ideas for Busy Mornings, Make Time For Breakfast, Power Up with Breakfast, recipes by Jamie Oliver and these protein packed smoothie recipes from Men's Health that are great for eating on the run (for recipes that call for 2 scoops of protein powder can reduce to 1 scoop).
Eat Fit Health Intern
Graduate Student, Drexel University
MS in Human Nutrition, 2016