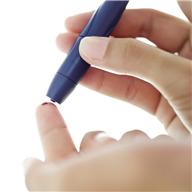 Having diabetes can be overwhelming at times, especially when first diagnosed. Eat Fit Health is here to help you learn how to control your diabetes and keep your blood sugar in a healthy range in order to prevent long-term complications!
We are passionate about helping those with diabetes. Our Registered Dietitian Nutritionist, Lori Enriquez, volunteers with the American Diabetes Association. She has also taught over 50 diabetes self-management classes.
Eat Fit Health provides many services helpful for those with diabetes including:
Grocery Store Tours – learn how to pick the best foods for diabetes
One-on-One Nutrition Counseling & Health Coaching – get personalized help from a Registered Dietitian and Health Educator, review the many aspects of diabetes care, nutrition, and lifestyle; help improving your "numbers" resulting in good blood sugar control, get your questions answered, learn carbohydrate counting
Metabolic Testing using MedGem® handheld device – determine your individual calorie needs helping you achieve your weight goals
Diabetes
is a common chronic health condition resulting in high levels of glucose (sugar) in the blood.  Diabetes can be controlled with a diet, lifestyle, and medications.  According to the
American Diabetes Association
, over 25 million children and adults in the United States—8.3% of the population—have diabetes.  However, even more have prediabetes, 79 million.   Learning about diabetes can be overwhelming at first. Diabetes can affect everything in your body.
There are four main types of diabetes.
Type 1 – Persons with Type 1 diabetes do not make any insulin. Insulin is a hormone that the pancreas secretes to help control the amount of glucose (sugar) in the blood . This type of diabetes is usually diagnosed in childhood or young adulthood. In Type 1 diabetes, the pancreas does not make insulin and need to get it from medication(s) to survive. Although, this is a less common form of diabetes it is a serious health condition and insulin is required to live!
Type 2 – This is the most common type of diabetes. In type 2 diabetes the body does not use insulin properly, called insulin resistance. At first, the pancreas may try to secrete extra insulin to make up for the insulin not working well. However,  over time the pancreas is not able to make enough insulin to keep your blood glucose (sugar) at normal levels.  Some persons with Type 2 are on insulin and other medications. There are many different types of medications to treat diabetes. Your healthcare team will recommend the medications that are right for you!
Gestational – When a woman gets diabetes during pregnancy it is called Gestational Diabetes.  These woman have never had diabetes before and it goes away after pregnancy. During pregnancy the woman needs adjustments in her diet to keep her blood sugar regulated and enough nutrition for the mother and developing baby. She may need insulin or other medications. Once a woman has had Gestational Diabetes they are at risk that it will return again in future pregnancies, 2 in 3 pregnancies. Also, women with Gestational Diabetes are more than 7 times as likely to develop type 2 diabetes as women who didn't have diabetes in pregnancy.
Latent Autoimmune Diabetes in Adults (LADA) or Type 1.5 – LADA is more common than type 1 diabetes.  More is being learned about this type of diabetes. Usually it is found in adulthood and often persons are misdiagnosed as Type 2 before getting properly diagnosed. In this type of diabetes there is a presence of auto-antibodies so it is an autoimmune disease. Genetics seem to play a role as well. Insulin is often needed within the first six years of diagnosis and those with LADA may need more insulin as they get older. Some also have insulin resistance.
To learn more about prediabetes click here!
There are many risk factors for diabetes, take the risk test to see if you are at risk and know your family history.  Find out more on lowering your risk of diabetes. Know the diabetes related symptoms. Not everyone has the same symptoms.
Tests that diagnose diabetes include:

an A1C (your average blood sugar over the past 2-3 months),
fasting blood glucose (morning blood glucose test after not eating for at least 8 hours before),
random plasma glucose (a blood glucose over 200 mg/dl at any time with symptoms), and
an oral glucose tolerance test or OGTT (tests your blood sugar before and after drinking a special sugary drink).