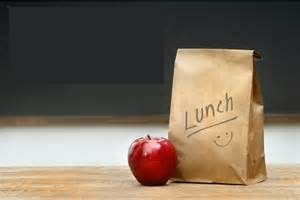 It's nearly impossible to keep track of over 1,200 National Days, but May 25th brings us one to put on your calendar. National Brown Bag It Day reminds everyone to skip the restaurant or cafeteria for a day and pack your lunch! Adults can brown bag it to work and kids can brown bag it to school. Packed lunches offer the opportunity to not only eat healthier, but also to save money! Between 2012 and 2013, Americans spent about $1,000 annually on lunch – and that was dining out an average of only twice per week. Imagine how much you would spend eating out every work day!
One of the main deterrents to packing lunch is having to transport and store your food. Keeping food safety guidelines in mind and choosing the right supplies will make packing lunch a walk in the park. Temperature is the greatest risk factor for contamination when transporting and storing food. The "Danger Zone", when bacteria may grow most rapidly, is between 40 and 140 degrees. That means cold food should be stored below 40 degrees, and hot food should be stored above 140 degrees. Maintaining these temperatures sounds difficult, but with the right lunchbox, ice packs, and thermos your food will be safe until lunchtime!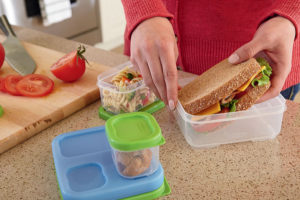 Insulated food containers keep food safe for several hours, whether hot or cold. Filling the container with boiling water before loading hot food extends safe storage time, as does freezing the container overnight before packing cold food. Start the search for your new lunch container with this vacuum insulated model. Remember to include reusable ice when packing cold food. Multiple pieces, like this product, allow cold-packs to be placed between items so everything stays cold. For more food safety tips, check out these resources from the CDC and FoodSafety.gov.
Packing lunch can also help increase your intake of fresh fruits, vegetables, and whole grains, and decrease your intake of sodium, added sugars, and saturated fats. It's also a great way to use leftovers from last night's dinner. To make the most out of your Brown Bag Lunch, follow these three easy steps:
3 Steps to a Healthy Packed Lunch
Choose a Protein Source
Protein supports your healthy weight and keeps you full during the day. You can include protein in your lunch whether you pack it cold, hot, or room temperature. Meats, fish, eggs, and dairy products should be stored cold. For a classic brown bag lunch, try nuts, nut butters, or dried meat or fish.
Supplement with a Whole Grain
Whole grains provide fiber and a source of healthy energy. Whole grain bread and rolls are great for sandwiches. For a cold lunch to reheat at work, try a grain like brown rice or quinoa. Add popcorn to lunch for a fun whole grain addition.
Finish with a Fruit and Vegetable
Fruits and vegetables provide a variety of vitamins and minerals, along with an extra boost of healthy energy and fiber. For a hot lunch, try adding diced vegetables to your homemade soup. For cold, pack some berries to add to your yogurt or salad. An apple, orange, or banana on the side never fails!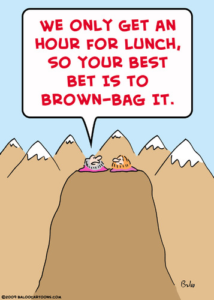 Now you know how to pack a healthy and safe lunch, and save money doing it! Give it a go this May 25th, and take National Brown Bag It Day as an opportunity to include a note to your child, significant other, or even yourself telling them why they're important enough to pack a healthy lunch for. For more bagged lunch ideas and help with food safety, talk to your Registered Dietitian Nutritionist!
By Brian Behring
Graduate Student, Drexel University
MS In Human Nutrition